SINGLETREES AND DOUBLETREES
Singletrees come in various sizes, styles and applications. There are some general 'rules of thumb' that are adhered to, but as always, there are exceptions to the norm. We will present the usual standards and address some of the more common questions asked.

Two of the most common styles of buggy singletrees used in light driving are what are referred to as the "hook end or cockeye end' (a) and the 'sword end' (b). Both are designed for use with leather trace driving harness, whether on a cart or light buggy. The hook or 'cockeye', shown here on the right, is threaded into the end of the wood singletree while the cast iron ferrule is placed over the wood end to prevent the singletree from splitting when it is pulled on.
Cockeye Singletrees – View Product Details 
Wood Blank Only – View Product Details 
Sword End Singletrees- View Product Details 
Brass Cockeyes – View Product Details 
Cast Iron Ferrules – View Product Details 
PREMIUM SINGLETREES AND ENDS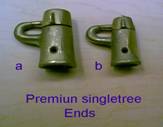 Pictured on the left is a replica of an old style singletree end made for when heel chain harness is used. The end is spring loaded to allow the chain to be inserted, but prevents it from accidentally coming unhooked. These are available in two sizes; 1¼" (a) for the draft breeds and 1" (b) for the lighter breeds.
Premium Ends – View Product Details
Complete Assembled Premium Singletrees – View Product Details
TRACE HOLDERS
The sword end singletree is designed for leather traces where the trace is slipped over the end of the singletree. In order to prevent the trace from slipping back off, trace holders are fastened to the sword end singletree. The steel trace holder is spring steel while the brass is spring loaded, both serving the same function. The brass trace holders come in two sizes.
SINGLETREE CLEVIS AND PLATE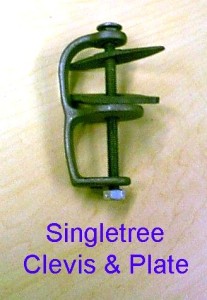 This singletree clevis & pate assembly is often used on lighter carts, pony and light horse buggy shafts, and light horse doubletrees. The caster and yoke are all one assembly. The bottom of the "E" is where the doubletree evener and/or the cart crossbar fit and the upper section of the "E" is where the singletree fits. There are upper and lower wear plates that fasten to the singletree. The bolt in this assembly is 5/16".
HEAVY SINGLETREE YOKE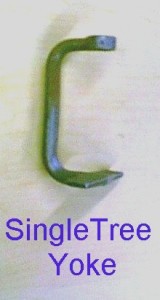 This singletree yoke is for heavier applications, such as needed for larger draft animals and the bolt in this yoke needs to be 3/8" x 5 ½". This yoke requires a caster set for the singletree to swivel on.
I have these casters in original cast iron, or in zinc alloy – (which are real smooth working.)
QUESTION: "What size singletree do I need?"
When used on a set of shafts, either cart or buggy, you would like the ends of the singletree to be just inside the shafts themselves. This allows the traces to be placed through the shaft loops, if present. Most standard cross bars, where the singletrees are fastened, are about 40". Here is where the 38" size is applicable. (Sword end singletrees are 42" in length, but when the traces are slipped on they will fasten at 38") If you were on a cutter with a cross bar of 36" width, you would use a 34" singletree.
In the cases where singletrees are mounted in a doubletree set up, you then want to match singletree lengths with horse size. As a general rule, an 800# animal, driven as a pair, will use a 28" singletree and a 1000# animal will use a 30" singletree.

When you get into the heavier working style singletrees, they are fashioned a bit different. These are designed for work harness with heel chains yet can be used individually or in a doubletree set up. These are well ironed on the back side for heavier pulling.(Measurements are wood lengths)
Available in Miniature, Pony, Mule, Saddle Horse, Light Draft Draft/Cross, #1800-#2000, and Ton and Over Sizes
General Rule:
What ever size singletree you would use on a wagon, single or in a hitch,
you should go up one size when you skid the log or stone boat.
Sometimes when you are skidding, you might not want to abuse your wood singletree and an iron one might suit you better. These are fabricated singletrees and eveners that are meant to be left outside and drug over the rocks.  I usually paint these black unless specified differently.
Steel Singletree – View Product Details
Steel Evener – View Product Details
DOUBLETREES
Doubletrees are, as the name implies, a set of two singletrees fastened to an evener bar to which a pair, or as we refer to them in the west, a team is hitched. The evener allows the equalization of pull to be distributed between the two animals, unlike the European style hitch which hooks each animal to a solid bar. Sometimes the evener is referred to as a doubletree, but for purposes here I will refer to is as the complete set.

A buggy doubletree is two singletrees fastened to a hickory evener. This would include two hook end singletrees, two sets of clevis and plates, and the evener. These are pre-fit and shipped unassembled. This style is used on team harness with all leather traces.
We can also place two premium end singletrees on this evener for teams with heel chain tugs. We also go to the heavier singletrees yokes and casters for heavier pulling.
Buggy doubletrees with cockeye singletrees – $95.00
Buggy doubletrees with premium singletrees – $195.00
Buggy evener only – $19.00
Due to the variety of sizes and combinations available, please call or email us with your sizes needed.  Thank you.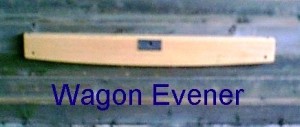 Wagon doubletrees include two wagon singletrees of your choice, two clevises, and an evener. These eveners are oak, ash, or elm. We also make three horse triple-trees for plowing and four abreast eveners.
Wagon doubletrees – $115.00
Evener only – $39.00
Three horse plow hitch – $189.00
Four horse evener – $72.00
Due to the variety of sizes available, please call or email with your sizes needed.  Thank you.

Doubletree clevises are available individually in 4", 5", and 6" lengths.
If you have questions or special needs, we'd be happy to help. Contact Us!