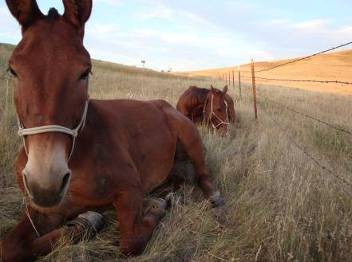 My father planted this evergreen tree when I was young and I remember him nurturing it, split top and all, until it became quite a beautiful tree. It winter killed several years ago and Dan limbed it and topped it and said he was going to carve it into a totem pole and at the top was going to be a peacock. That morning, as we were adding to the flower bed at its base, one of their young peacock males flew to the top and perched there while the work below ensued.   "See, there's going to be a peacock at the top" Dan says with a wry grin.
Monday morning, September 14th, I packed up and headed on leg two towards Bozeman where our daughter Janelle and son Nate (Brittany) live. Fresh supplies are packed up and after climbing on the scales at my sister Katy's kennel I found that I had only lost 5lbs. so far.
I rode past the Highland cemetery where my folks are buried in the Veterans section (the white markers in front). About 10 miles out of town Hannah came up lame and after checking her over I decided to head back to Great Falls and find a vet for a check over. She seemed to favor her right hind leg and I thought maybe she had stifled herself. We walked back about three miles when I could tell she was limbering back up. I concluded that she had muscle cramps and was working them out so we headed back south.
That night at camp they were both eager to bed down for more rest. Neither seemed to overly eager to be on the trail and it had been kind of a ho-hum day anyway. So we stopped early, rested long and ate well.
This night brought another beautiful sunset and a gorgeous night under the stars.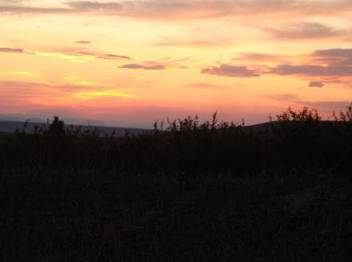 Headed south we were viewing yet another mountain range south of Great Falls known as The Cascades.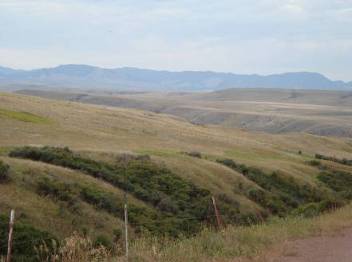 No western landscape is complete without a windmill.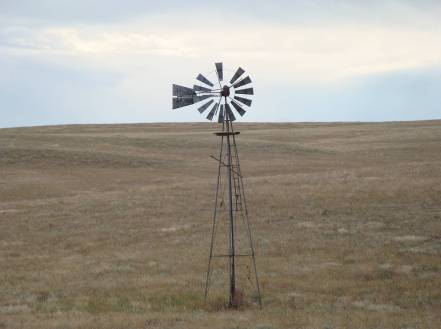 We soon crossed the Smith River, well known as perhaps the most popular scenic river to float in Montana. It is so popular that reservations have to be made well in advance and numbers of floaters are limited.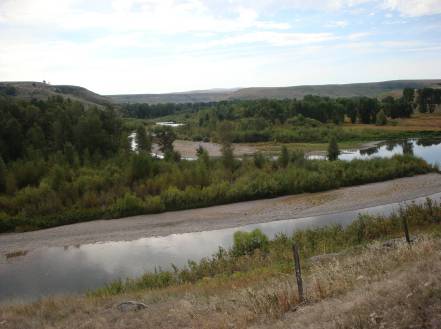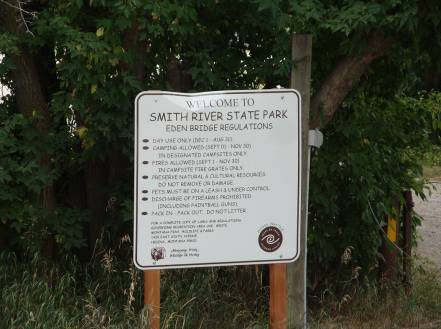 We were soon into more wide open cattle and sheep country as we headed down the Milligan Route towards White Sulphur Springs. This was a particularly calm day and we put up with long dry stretches filled with flying ants for hours. In the planning stages of the trip, this was the longest stretch that concerned me because of the lack of natural water sources. It was 20 miles between creek or river crossings. We found one spring-fed stock water tank at about 18 miles after we crossed the Smith River that was a very welcome relief. Hannah and Betsy wee perkier, but days like this day turned out to be tests of endurance, physically and mentally.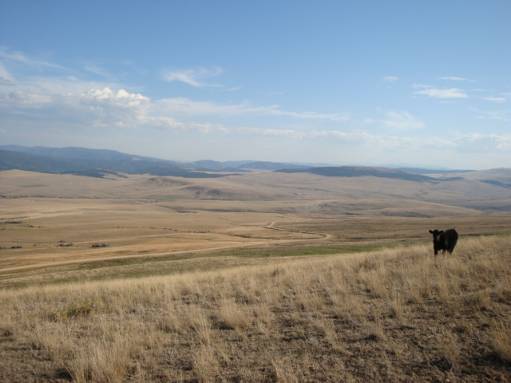 I ended up taking numbers of pictures of old farmsteads and homesteads and tried to envision the dreams, families and lives that fought for their existence in some of these remote regions of Montana.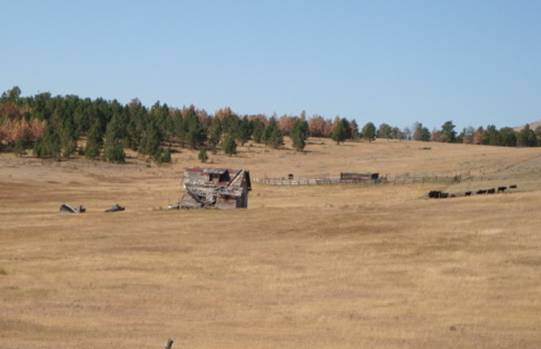 The map shows a town called Lingshire, but this old Post Office building is all that remains.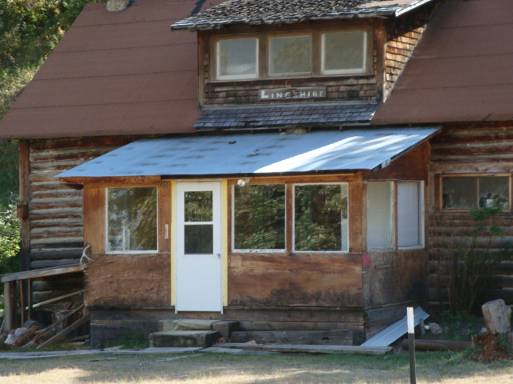 Fort Logan is another lingering memory of glory days long past; built to protect miners during the gold rush days, it now remains, privately owned, well kept, but without a marker, so as to avoid the hassle of tourists.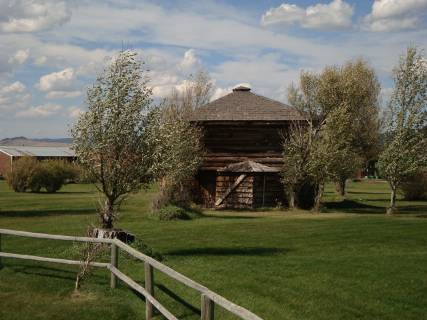 After the long dry stretch through the Milligan route, we rode over the crest of a hill, 9 miles out of White Sulphur Springs, to this little oasis. We had traveled close to 30 miles, 11 miles of pavement, hot sun, no breeze, poor ditch banks, and 70 mph traffic and were at the end of our endurance when this showed up. What a welcome sight! Knee high grass, alfalfa and thistle; both Betsy and Hannah seemed to like Canadian Thistle. We were camped across from Steve & Maggie Buckingham, and Steve met me at the road the next morning with hot coffee and an invitation to a hot breakfast, so not only did the girls dine, but so did I.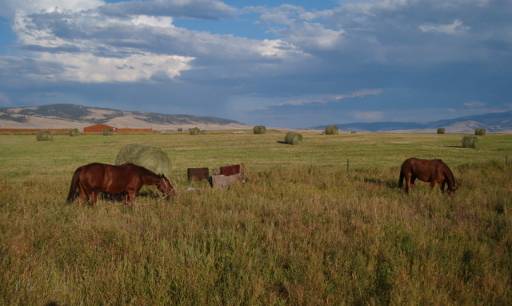 That night I rolled up in a sheet of plastic to the patter of rain after watching a mesmerizing lightning show. By morning there were the cries of Sand-hill Cranes, fog on the Smith River and heavy dew. What a beautiful morning!
As we headed south, out of White Sulphur, towards Bozeman, we rode sparse, sagebrush, dry country. It was 23 miles to the town of Sixteen from where we camped the night before.
We saw what looked like two dust devils in the distance, but it turned out to be two large 4-wheel drive tractors scratching out a living.
We did finally see signs of habitation at the town of Sixteen; two homes. This was the home of Mike & Ingrid Eckberg and their neighbor, Bill. Theirs was the only homes since highway 12, which was eighteen miles north. Ingrid goes to Ringling twice a month to get the mail and drives 4 miles north to a high spot to get cell phone service. And I can assure you that Ingrid makes a killer club sandwich and bacon & egg breakfast!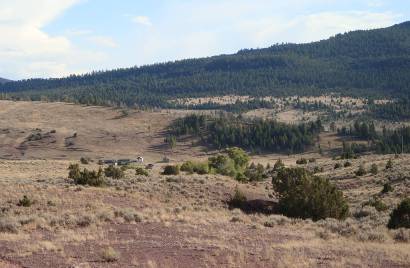 |
Bill has lived here all his life and is surrounded by man's best friends, about 50 of them. 30 accompany him everywhere he goes, even when he rode with me across 10 miles of mountain trails to show me the way to Maudlow (and back by himself). Bill was the only one to ride with me for any portion of the ride, and this with severe arthritic pain in his hips. This was a momentous day for me and a new friend I shall never forget! Thanks Bill.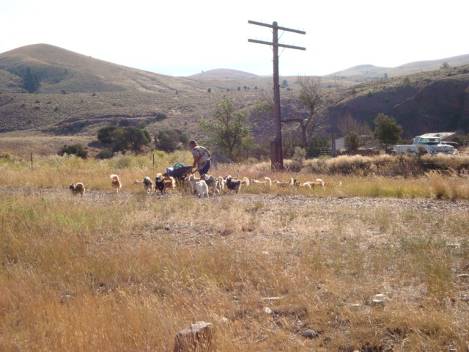 Every morning was cake time and both girls knew it. Every morning I was greeted with "Glad to see you're up. Where's breakfast!" This morning, on the middle fork of Sixteen Mile Creek, I was slow getting there so they came rousting me out. The frost was pretty heavy so we waited for the sun and listened to the bull elk bugle.
After 9 days from Great Falls we rode into the Gallatin Valley's Bozeman.
Here we spent two days resting and refueling the mind and body.   Nate & Brittany's little puppy, Bentley and I had great days lounging while Brittany attended classes and Nate organized his roofing crews. We had a nice dinner out to celebrate their first anniversary and restocked supplies once again, with Bentley's supervision of course.
Last leg left – heading back to Joliet.