Details – Yellowstone Coach Project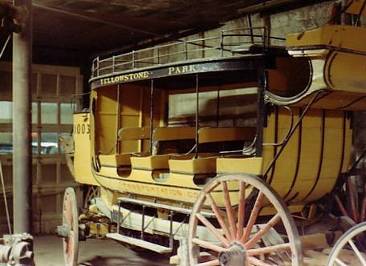 This was the original Tally-ho coach brought to us by TW Services. The Yellowstone coach is notorious for being top heavy and prone to rollovers, so at their request we lowered the height and widened the gear and body on the new ones to help alleviate this problem.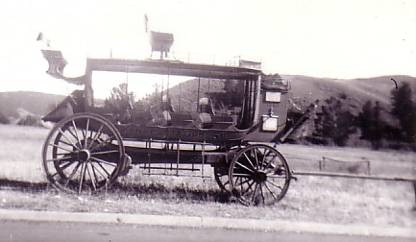 This is an old picture of another Yellowstone Tally-ho coach, but you will notice a few differences. The most obvious is the added seat on the roof. Even today, these upper seats are the most popular. You will also notice the wheels in the color photo are Sarven style hubs and the black and white picture shows wooden style hubs. The photo to the right also shows a small leather boot under the tally-ho seat which is not on the upper picture.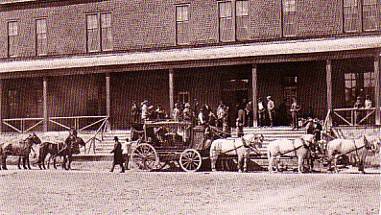 This photo is in front of Yellowstone's Hotspring's Hotel, noted as "late 1800's." This coach has the similar hard top and the Tally-ho seat, and instead of four seats under the roof, this one has three. Note the matched hitch of six white horses; that's traveling in style!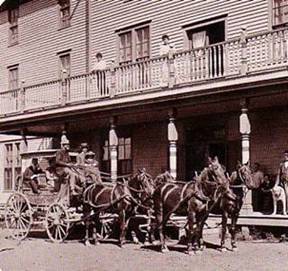 Here is shown an eight passenger coach at the Lake Hotel in Yellowstone Park with a matched four-up. This is not a hard top, but has a surrey top and was probably more common than the hard top coaches.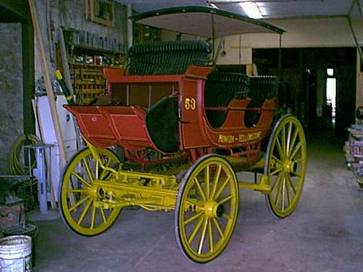 Here is a similar 8 passenger we just finished restoring for Buford Madsen right here in Billings, MT.
(Number 53, serial # 16840)
Just a little taste of an era gone by.