Details – Wagonettes Project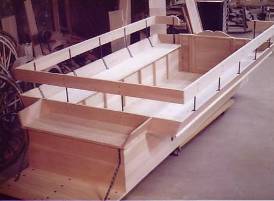 This was the basic body style of our 'out west' Wagonette. It is a real people hauler and didn't have to have real fancy running gears to do it.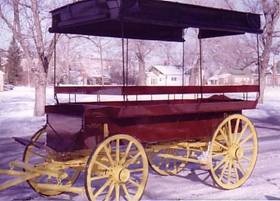 This shows this style body as if set on a farm wagon gear and a surrey style top.
Here's a work in progress.
These are for the Spanish Peaks Resort in Big Sky, MT
Monday 12-13-04 These are two Wagonette style bodies being fitted to bobsleds for the guests of Spanish Peaks Resort through the winter. We've got the back-rests to go on yet and finish putting in the floor boards.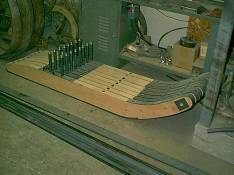 The bobsled runners are waiting to go to the paint room where the bunks and bolsters are now.
Thursday 12-16-04 Here are the bodies with the back-rests on and the stain applied, ready for the first coat of sealer and varnish.The runners and bunks are black.
Monday 12-20-04 We are finally together and ready to deliver these two bobsleds to the fine folks at Spanish Peaks Resort in Big Sky, MT
Tuesday 12-21-04 These two 12 passenger bobsleds are home at Big Sky, and ready to go to work.