Details – Stagecoach Project
One of the advantages of custom work is the opportunity to build a vehicle to a particular individual's purpose and when Mr. Nortman shared his desire to give terminally ill children rides with a stagecoach, we began putting together what he needed. First, it had to be authentic looking, durable enough for kids to climb all over it, have a finish that could be hosed off if someone spilled a drink, and modern enough to be safe and insurable. The time and expense involved for gold leafing and murals wasn't necessary, but nicely done lettering and striping would be good. So the project began.
We began by building an authentic style running gear for a Concord style coach with hand forged jacks, sockets and clips. The biggest additions shown here is the use of roller bearing axles and hydraulic brakes. The jack eyes, braces and sockets were forged to duplicate original styles.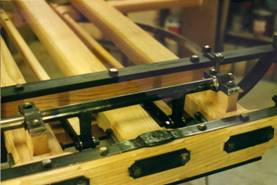 This front view shows the manual brake assembly that was also included so as to have the hydraulic, but also the original rub block brakes.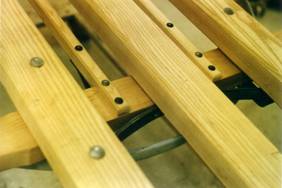 The two arms facing downward between the two brake arm blocks (picture above) go back to operate the manual brake bar as shown here on the right.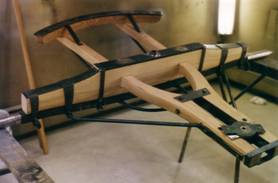 The front axle assembly, with tongue hounds, was also fabricated to match old styling.
We also built his wheels to accommodate the roller bearing axles and hydraulic brakes.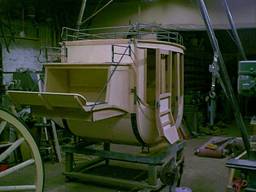 We built the body of the coach to accommodate 6 passengers inside, 6 on the roof, and two on the driver's box. He liked the eastern style driver's box, so that what we did.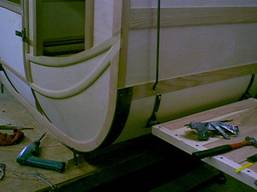 The Concord is known for its body styling shown here. The steel strap coming up the curve is what rests on the thorough braces.
All the hardware was hand forged.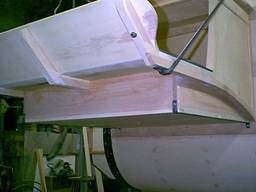 And inside the driver's foot board was hidden the master cylinder for the hydraulic brakes.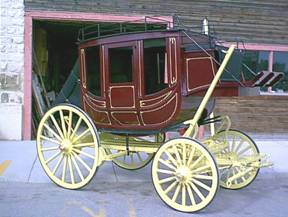 I won't bore you with the painting and assembly process, but here we are together with the initial striping, ready for the lettering.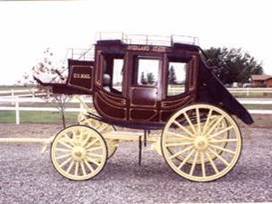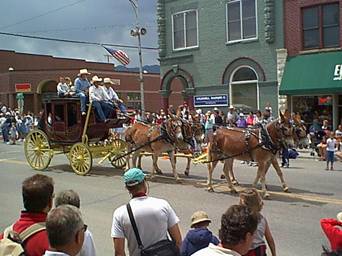 And the maiden voyage in the Red Lodge, MT., 4th of July parade with a beautiful four-up of sorrel Belgian mules. It's always a pleasure to see a customer happy with their vehicle and using it for its intended purpose. Thanks!