Videos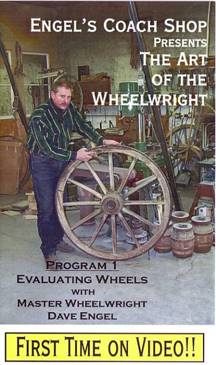 Price: $44.00 - $199.00
SKU: VID-001
Product Categories: Tools, Videos
Product Page: http://engelscoachshop.com/product/video-programs-one-and-two/
Product Variants
Videos - Programs One and Two (1 DVD) ()
Videos - Program Three (1 DVD) ()
Videos - Program Four (1 DVD) ()
Videos - Programs Three and Four Together (2 DVDs) ()
Videos - Complete set of 4 Programs ()
Product Description
THE ART OF THE WHEELWRIGHT SERIES
We have produced a video series called The Art of the Wheelwright, designed to help those who are visual learners, like me. There are some really good books out there on the wheelwright trade and this video certainly doesn't take the place of those, but hopefully supplements them. It's kind of like coming to Montana and spending a day in the shop while I build a wheel, without the motel, meals, and fuel bills to go along with it! Those of you who would like to come are certainly more than welcome, though! This video is presently in a two part series:
PROGRAMS ONE AND TWO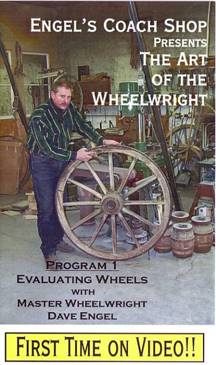 Program One is geared towards the newly inspired and excited individual who just can't wait to buy that first buggy or wagon and get their horse(s) hooked up and driving. It's the tape that says, "Whoa there a minute, partner. Before you get too excited about this, let's look at a few things about the wheels that you need to know so you don't end up getting burned." I go through common repair concerns in older wheels, do they fit properly on the axle, and how to identify different wheel styles.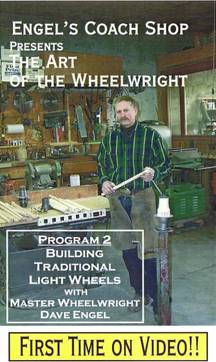 Program Two is directed more to those who want to see how buggy wheels are put together. Some of you folks would love to build your own wheels and this will be of help, actually seeing the step by step process. And you don't have to sign up for a class or leave home! Others of you would merely just like to be in the shop while wheels are being built, just to see how it works, but there are just too many miles between us. This is the tape for you both. Books are great, but you know what they say? "A picture is worth a thousand words!"
$89.00 (Both Programs on One DVD)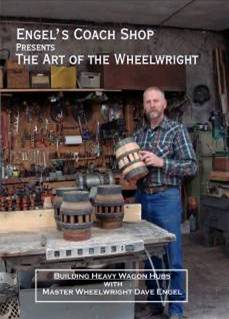 Program Three: Building Heavy Wagon Hubs.This program demonstrates and explains all that is involved with the building of heavy wagon hubs. Starting from a rough block to cutting the spoke mortises, boring and setting the boxing, sizing and setting hub bands, we show each step along the way with jigs, tips and pointers of how and why. You will understand the design of the tapered mortise and tenon joint as the spoke fits into the hub, what to look for in boxing styles and how to make sure your hub bands are tight enough to prevent the hub from "blowing apart." $44.00 (61 Minutes Long)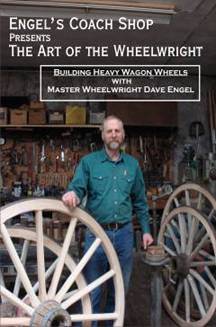 Program Four: The Building of Heavy Wagon Wheels. Showing how to build on the hubs you have just built, this program explains the design of the common wagon spoke and how it is inherently different than a Sarven spoke, fitting the spoke into the tapered hub mortises, how sawn section felloes are designed and installed in contrast to bent felloe halves, how to make sure you have symmetrical wheels, setting wagon tires and finally putting back the California rivets. $79.00 (110 Minutes Long)$110.00 When Purchased as a Set with Building Heavy Hubs (10% savings)
TESTIMONIALS
"In the past 25 years I have visited many Amish shops (more than one in each state) in Minnesota, Wisconsin, Iowa, and Indiana. I studied Melvin Dewitt's book over and over, but your video took the mystery out of wheel building. Thank you!"
Paul Desens
"In this day and age we have some overnight wheelwrights who figure the old way was the old way and rules were made to be ignored. Dave Engel of Montana is one of the best living wheelwrights. He is an old-style master wheelwright and he is a modern craftsman looking to understand and share the principles of his chosen craft. I recently viewed Dave's two new videos and was thunderstruck with the clarity and detail depth of both. These are without doubt two of the ABSOLUTE best instructional videos I have ever seen on ANY subject let alone wheelwrighting."
Lynn Miller, Editor, Small Farmers Journal, smallfarmersjournal.com 1
"…the material you provided was excellent! When you zoomed in – it really helped to see the pencil marks or the sanding angles, etc. Very awesome! … I was amazed that an 1/8th of an inch or even a 1/16th of an inch could make that much difference in a wheel."
Kayo Fraser, Wild Horse Books, wildhorsebooks.com 2
Product Attributes
Dimensions: N/A
Program: Programs One and Two (1 DVD), Program Three (1 DVD), Program Four (1 DVD), Programs Three and Four Together (2 DVDs), Complete set of 4 Programs