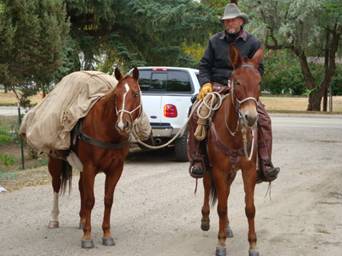 Little Bentley was so fun he deserves a second picture. From Nate & Brittany's I headed south out of Bozeman looking to go over the mountain to Mystic Lake. I wanted to skirt Bozeman Pass. When I did get to the trail head I found it was VERY popular with hikers and mountain bikers, and most of them had their dogs. I had picked up a stray that I had to put the run on and a couple of older ladies gave me this, "Boy you're mean" look. About 6 miles up I got to a spur trail that was more my style.
Mystic Lake really is a pretty lake. There is a Forest Service cabin there that is rentable, but a fair hike to get there. This was the beginning of an interesting couple of days. I was at Mystic about 3:00 and rode til about 6:00 just trying to find trails. No trail markers had anything like what my map said. I followed a logging road until it played out, circled back to Mystic, took another unmarked trail and decided it was wrong, headed back to Mystic, and finally took a trail to the north side of Mystic and camped for the night. Three hours riding and hadn't got anywhere. There was one trail left that said "Bear Lakes TR 53 – 4 miles" that I decided I would try in the morning. No TR 53 on my map, but it headed west.
The next morning found me about a mile up the Bear Lakes trail, boxed in by downed timber, too high to jump, no way around to bush-wack, but back. "I don't want to go back!" So with my dull ax I had forgotten to sharpen, I spent time finding the most rotten log to hack through. I still had trouble convincing Betsy she could jump it. She thought rearing was more appropriate until I adjusted her neck with Hannah's lead rope. Jumping wasn't so bad after all.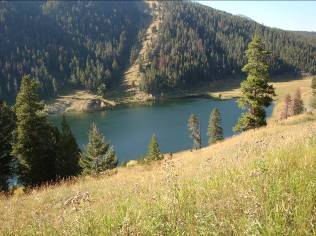 After two more log jams we could brush-pop around, and a super steep rocky, eroded trail off the top that I walked off of, we made it to Bear Lakes. This is the northern Bear Lake. The southern lake was a moss covered green, slimy pond. The amazing thing through here was that it is all accessible by 4-wheelers and is a horrendously eroded, torn-up mess! We found ourselves skirting the trail because it was so bad. But I figured if there was that kind of access, then there had to be a way out.
I started out heading north for about a mile and decided that was wrong so I went back to the lakes and found a trail that headed west. "West is good." Trouble was it ended at a camp site in a half mile or so. No other options, but Mystic Lake, so we went north again only to find a trail that said "Loop Trail" "Great! Now we get to ride in circles!" But my map showed an unmarked looped trail with another trail coming in from the north. So off we go, north on the loop.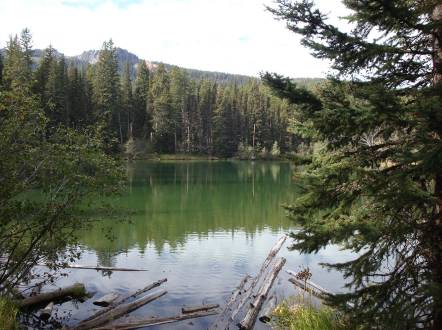 After riding the loop for several hours we came to an intersection of trails; we were riding west at the time and the trail "Teed" into a north – south trail. By my map, the south trail (unmarked) would have looped back to where I had started, so I went north. After several more miles we came across a sign that said "Bear Canyon."; another mile, another sign, "Bear Canyon." "I don't want Bear Canyon, because that leads us back to Bozeman!" So, back south I go, pick up the other south-bound trail, which leads us by some old homestead sites, up a long, tough grade, and "Voila! Trail Creek Road."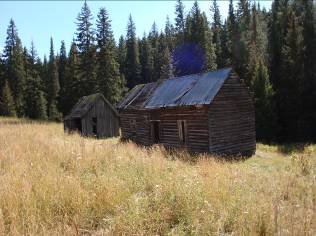 Now I know where I am! (Or so I thought) So, off we go, heading south, heading for Livingston. We passed a Forest Service mile marker that said "4" so I figured I was four miles down Trail Creek Road; further north than I wanted, but good to go. Three miles down the road I came to the Trail Creek Ranger Station. Trail Creek Ranger Station is not on Trail Creek Road! Come to find out, it is on Goose Creek Road and Trail Creek Road is 7 miles back north! So 7 miles back north we go to finally camp a half mile from Trail Creek Road. Also, Goose Creek Road is not on my map. I have decided I don't like my map any more.
Short story long; I had planned to be in Livingston Saturday afternoon to see sister Carol and Tom before their store closed. 10:00 am Monday morning I rode in.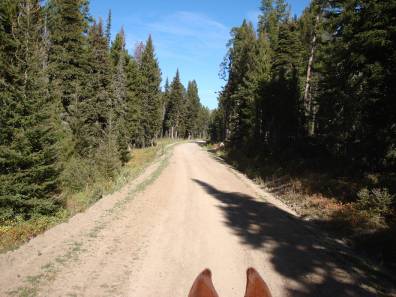 I'm sorry this photo didn't turn out better than it did, but I had never heard of Storrs. The sign reads:
This was the site of the town of Storrs from 1902 to 1910
Storrs was a model coal company town laid out in blocks with
painted houses having running water and electricity. (1904-1910) There
was also a hotel, boarding houses, store and fire station.
The town was built by the Anaconda Copper Mining Company
for the workers who labored in the coke production plant
and coal mines. In 1908 the operation shut down. The plant
burned down under mysterious circumstances. From 1899 to
1918 the Turkey Trail Railroad serviced this area. The ruins
of 50 coke ovens, the coal wash plant, foundations,
the motel foundation and a fire hydrant can be seen
from the road.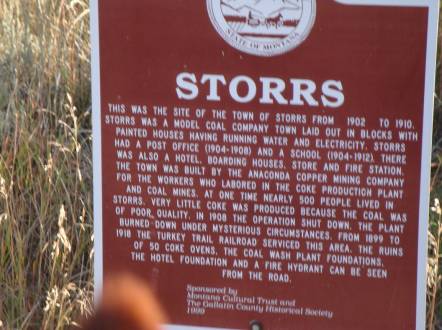 The photo to the right is part of the remnants of the ovens referred to in the sign.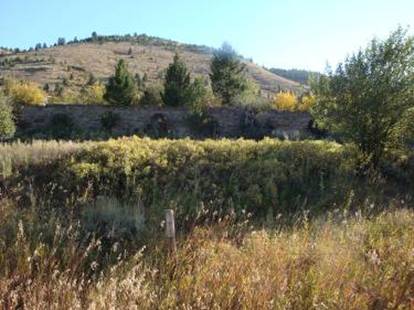 I did eventually make it to Tom & Carol's Way Out West store where I had a delightful 5 hour visit. Hannah and Betsy were crowd pleasers. I had stopped to pick up a real map at the Forest Service Office down the street where I heard that snow was predicted Tuesday night. Carol graciously outfitted me with wool socks and tee-shirt to help avert the oncoming storm. Two days later they were GREATLY appreciated! Thanks Carol!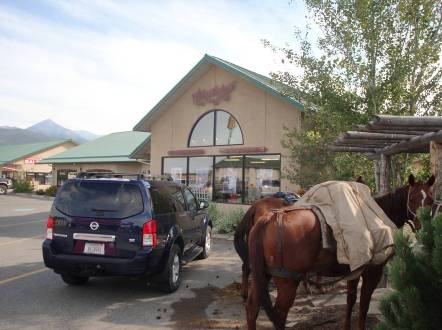 The trip from Livingston to McLeod was in comfortable, beautiful fall weather; some colors in the trees were starting to show. We found a little spot behind an irrigation ditch with nice grass; trees for some shade and a little off the beaten path. It was only 3:00 in the afternoon, but this was a nice spot. Rest is always welcome; blue skies, warm breeze, good feed.
Wednesday morning the rain set in, which quickly turned to snow. "Don't like the weather in Montana, just wait!"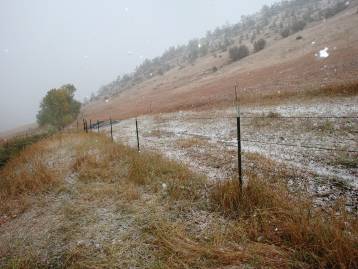 I had planned to head south, deeper into the Beartooth Mountains, but instead we headed north towards Big Timber to ride around the bulk of the storm.
We had camped at the base of the mountains where the main storm was and by about 5 miles we were into just the rain and wind – cold wind.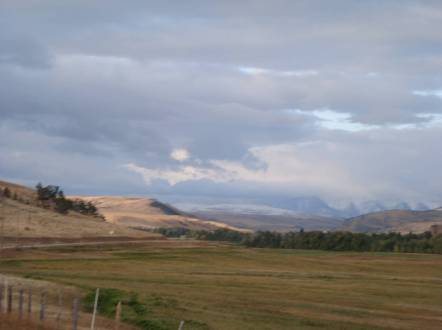 The Crazy Mountains were beautiful after the clouds lifted off.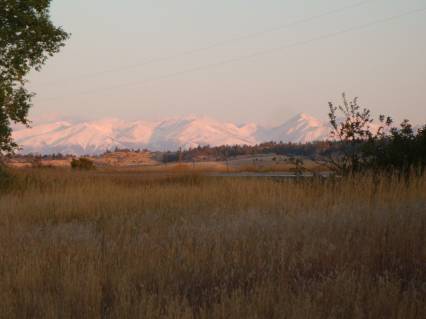 After Big Timber, down Bridger Creek Road and headed for Absarokee, we finally saw the Beartooth Mountains that we can see from Joliet. This was when I really felt like we were getting close to home. While riding Bridger Creek Road I was told of another snow storm coming that was predicted to drop a foot of new snow by Sunday evening. (Now Friday)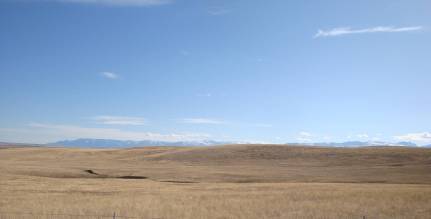 Saturday morning we awoke to yet another beautiful sunrise.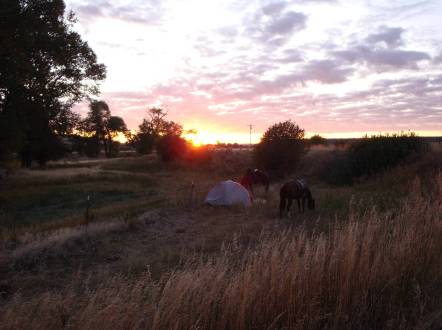 But by Saturday afternoon the mountains were starting to disappear under the impending storm.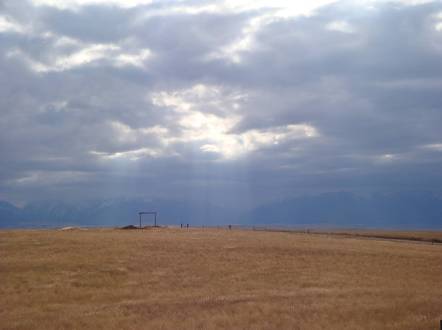 By Sunday morning, camped at Cooney Dam Reservoir, the Beartooths were no longer visible, light snow was in the air and the wind was cold.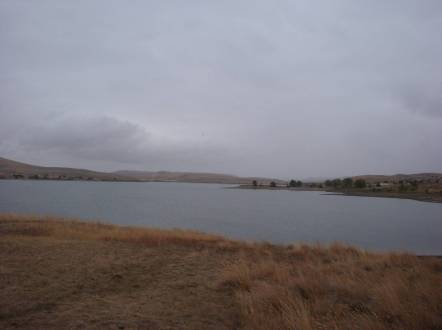 This was the morning of "lasts". It was actually a bit gut wrenching for me as I took last pictures, fed the girls their last cake on the trail, saddled up for the last time and gave them each a hug for their companionship. They are sweethearts.
As all things must come to an end, we made it back home; 650 miles, 36 days, worn out horse shoes, square toed hooves and a few dings, but a memorable time, a new outlook on life and a desire to go again.
Sorry Kawasaki, you might be for sale!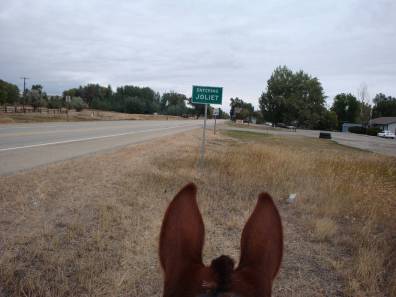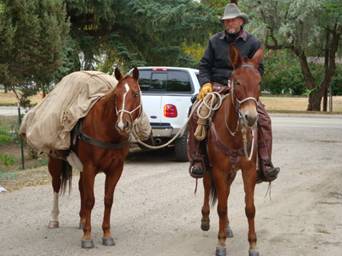 Thanks all for traveling the miles with me!
Dave