ACCESSORIES
This page is a bit of a catch all for items that don't deserve a category of their own, but are necessary little items to buggies.
TAIL GATE LATCHES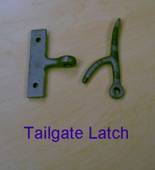 These cast iron tail gate latches are a nice added touch t0 spring wagon end gates. The hook end fastens to the rear of the side boards and the eye attaches to the tail gate. These are also sometimes used on chuck wagon boxes.
QUICK PINS

These Quick pins are sure handy when it comes to taking your shafts or poles on and off. Forget the bolts and nuts and having to have a wrench handy. Simply slip the spring clip off the end of the pin and slide them on or off the shafts or pole. These are hardened pins and are 3/8" in diameter.
LEATHER COIL WASHERS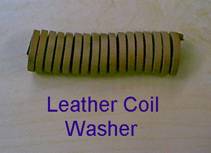 Inside the axle nuts on lighter vehicles is a machined ring which accommodates a leather washer. These leather coils are for making various size washers to fit this ring. The coil can be expanded or contracted in diameter to fit various sizes. One coil will do 8 to 10 nuts or four wheels when inside and outside washers are needed.
WHIP SOCKETS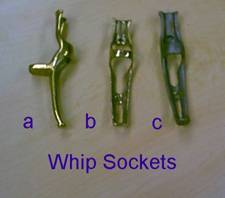 Every buggy needs a place to carry a whip and there is a variety of styles available. The whip socket lettered (a) is solid brass and designed to mount on a horizontal surface. The lip to the left can be drilled for either a screw or a bolt and is commonly used on carts where it is mounted on the shaft. Whip sockets (b) and (c) are mounted on vertical surfaces such as wooden dashes or box sides. (b) is brass and (c) is cast iron and paintable.
WOODEN WHIP SOCKETS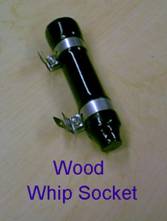 We also carry wooden whip sockets that are fashioned to mount on leather covered dashes. The tabs on the bands fit around the metal framing in a dash and fastened with a small bolt. These come in both black and natural finishes. (Natural not shown, but same style)
CAST IRON STEPS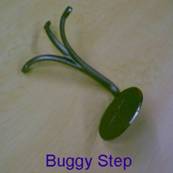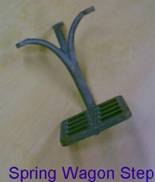 These are two original style cast iron steps we have available. The round is more for the light buggy vehicles while the square is a bit heavier for the spring wagon size vehicles.
SEAT CORNER BRACES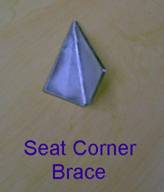 Often times wagon seats will have corner braces to strengthen the corner joints. These cast corner braces can be drilled and fastened to your new seat or added to an old seat for added support.
TEE PLATES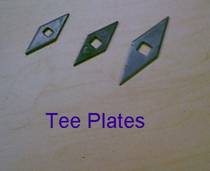 Tee plates, as shown here, are meant to be placed under the head of a carriage bolt when the bolt is placed near the end of a piece of wood. The tee plates are then molded to fit the contour of the wood and helps prevent the wood from splitting. Applications are often on shaft ends, near the eyes, and circle braces for both carts and buggies. These come in 1/4", 5/16" and 3/8" bolt sizes.
SEAT BACK BRACKETS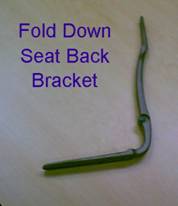 Meadowbrook carts have seat backs that fold down to allow rear entry into the cart. These seat back brackets allow this function. The base is bolted to the seat and the upper portion is bolted to the seat back. These come in pairs and one pair is required for each seat. Meadowbrook carts take two pairs of brackets.
ROLLER RUB IRONS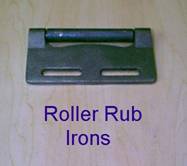 Roller rub irons are a must for vehicles with rubber tires. When wheels are converted to rubber tires, the steel rub iron must be replaced with a roller rub iron. Otherwise, when the rubber comes up against the steel rub iron in a tight turn, it will grab and crawl under the body, often times overturning the vehicle. Price shown is for one pair.
WAGON BOWS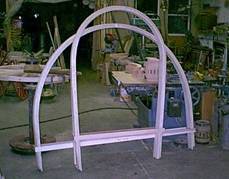 We have our own steamer and bend our own chuck wagon and sheep wagon bows. Common sizes are 38", 42", and 78", but we have a wide range of forms for custom sizes also. We bend our bows out of quarter sawn air dried ash for exceptionally strong bows. Each bow measures 5/8 x 2" x 14 feet in length and have the outer corner rounded to reduce wear on the canvas. (Bows wider than 2" are not quarter sawn) All bows have to be shipped truck freight. Freight charges are calculated for each shipment. Call, or email, your zip code and I will calculate freight charges. Generally you can ship 3 sets of bows for the same price as one, so talk you friends and neighbors into splitting the freight by combining orders.
WAGON SEAT SPRINGS
These springs are 3/16" thick leaves, are available in 1 ¼" and 1 ½" widths and are about 24" long.
BOBSLED RUNNERS
We are now bending bobsled runners!! These are one piece runners bent from 2 ¼ x 5 ash, 7ft in length in the rough. They clean up at about 2 1/8" to 90% or 100% at 2" thick. If you don't trust the two piece runners, here's an old style – one piece runner again!
We also bend lighter runners for passenger bob-sleds, as well as cutter runners and replacement runners for buggy wheels.
PLOW HANDLES
56″ steam bent ash replacement handles for walking plows.
These are a few accessories we have on hand. I'll keep adding as I have time. If there are specific items you are looking for, Contact Us; maybe we can help you out.