Welcome to the Shop of Engel's Coach!
We're not too terrible fancy here, but I thought maybe you'd like to take the 5 cent tour.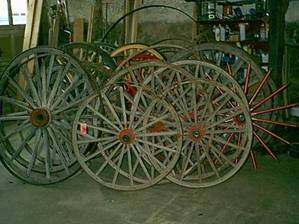 As you first enter the shop, you are greeted by an assortment of buggy and wagon wheels waiting to be repaired. These will vary in needs, from complete rebuilding to just needing the tires reset.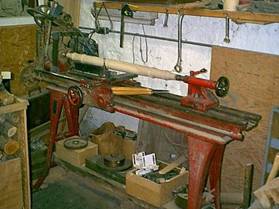 We use an old South Bend metal lathe modified into a wood turning lathe. This provides substantial stability when turning large hubs or neck yokes. It also allows us to turn lengths up to 52".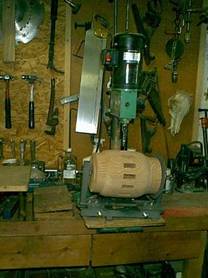 Often times a complete rebuilding process involves making new hubs. We show here a wagon hub blank we turned being bored with a hollow mortise chisel. This indexing jig allows mortises to be cut on a 10, 12, 14, or 16 spoke pattern.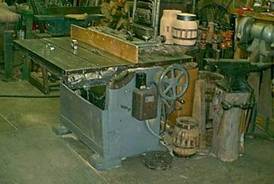 The table saw we use is an oldie, but goodie. It is a J. A. Fay & Egan Co. dual arbor 16" saw, and a real gem. Even though it still has babbitt bearings, it is accurate to the splitting of degrees.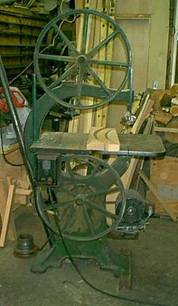 I'm a bit of an old tool nut and really have appreciated this old 24"band saw. It's made by the Silver Manufacturing Co. of Salem Ohio. It is also a babbitt bearing, 3 phase machine that will run up to a 1 inch blade.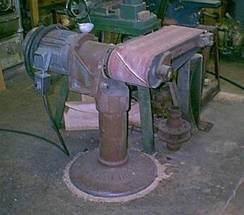 This belt sander is one to put the 6 x 48" sanders to shame. It runs its 10 x 72" belt with a 5 horse 3 phase motor and can really sand the wood. An interesting part of this sander is that it was made by Engelberg, Syracuse, NY.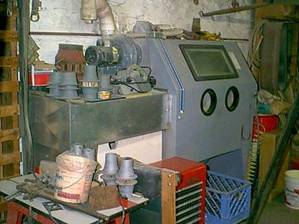 Doing restorations involves a lot of rusty old iron, so everything goes through this sandblaster before reassembly. This will handle full length axles and springs along with every other imaginable part.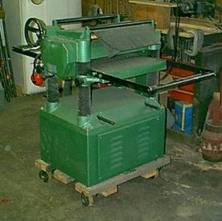 This 20" planer might be one of the newer tools I've allowed into the shop and it sure works well. From seat bases to wagon box sides, it will send 'em through and not even balk.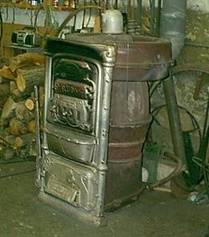 We are in an old building built right after the turn of the century (and I don't mean this one) and we still heat with wood and coal. This is a Rudy stove built back in Dowagiac, Michigan, patented Feb 1, 1916. I really like their motto cast onto this stove; "Built in Dowagiac by those who know how"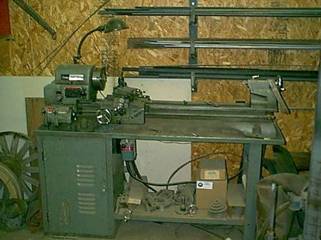 For our lighter machining work we use this 6 x 48" lathe. It is ideal for custom fifth wheel bolts, refashioning rivet heads, bushings, and light threading.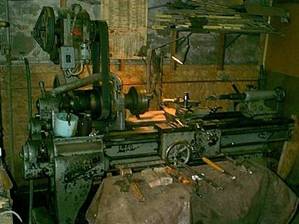 This 18" Hendey lathe is another old timer that fits right in around here. It's a real asset when it comes to either boring center holes in large wagon hubs or truing spindles and boxings.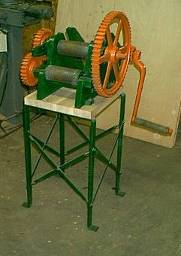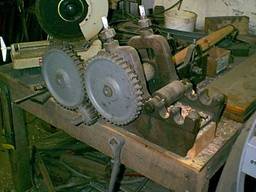 These tire rollers are indispensable to a wheel shop. Both are gear reduced for rolling heavy iron tires and easily do small hub bands also. Many shops are only willing to put on half inch tires, but we feel a 5/8" tire is much more suitable and these rollers easily do that.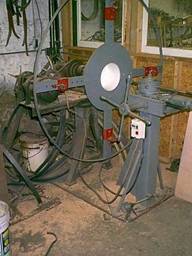 This machine is where we bore our hubs. This was made by converting an old turret lathe into this adjustable post hub borer. This allows us to bore any taper into any hub for all the various size boxings.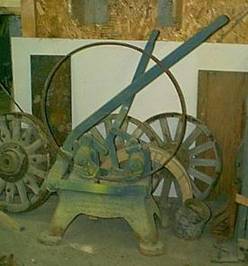 And every wheel shop needs a tire shrinker. A section of heated tire is clamped between the dogs operated by the smaller lever and the longer lever causes the iron to be compressed, or upset, until the proper size is attained to match the wheel.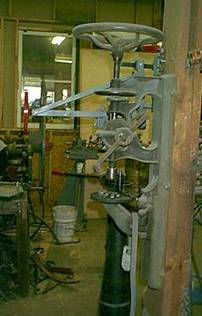 This post drill might be old, but she's not ready to quit yet. Having the top mounted counter weight makes this ole girl real handy and compact. This one also has an adjustable table mounted on ratchet dogs, instead of those that slide on the post.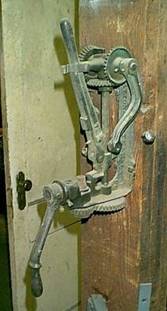 This cute little tool is a sure must for every wheelwright shop. (Tongue in cheek) Made by National Steam Pump Co. of Sandusky, OH, and patented Nov. 8, 01, this tool spins on the square nuts on tire bolts and trims off the excess bolt.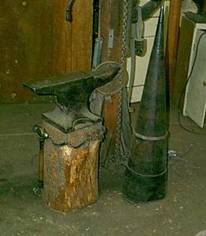 No shop is complete without and anvil and/or a mandrill. This is one of those cases where, "If one is good, two is better." We keep a 215 lb. anvil in the welding area and 160 lb. and 115 lb. in the wood working area. Mandrills are great for rounding out hub bands.
I realize this picture is a bit hard to see, but is an automatic feed camelback drill that operates Morse taper bits up to about 3". It was made by Aurora Tool Works of Aurora Indiana.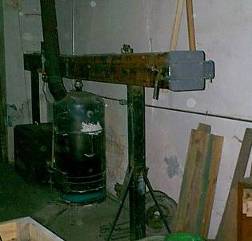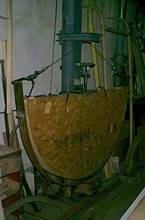 Having our own steam chamber allows us to bend our own wagon bows and felloes as we need them. The steam tank on the left is coal fired and the bender at the right is shown with a sheep wagon bow form.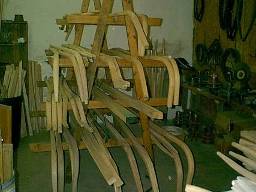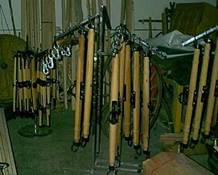 We keep an assortment of supplies around to compliment our wheelwright and restoration shop. You can access our catalog in this site or request a catalog to be mailed to you.