History
Even though I've been in the wheelwright and horse drawn vehicle trade for 38 years now, I look back even before that and wonder if it was in my destiny. My father was raised Mennonite in Congerville, IL by his widowed mother, Winnie (Stutzman) Engel, along with his brother Ray, with the aid of Winnie's sister (my great aunt), Blanche Stutzman, who lived with and near them. He often referred to memories of bringing wagon loads of grain to the elevator with his uncle with a big team of black Percheron and that always left him with a fondness for Percheron. My father married, and several years later moved to Montana, and I was born in Bozeman, MT. in 1954. At 4 months of age I was moved to Great Falls, MT where I spent my growing up days. As we lived on a 10 acre place south of town, we always had horses, Shetlands and burros to ride or drive. My father drove a team of quarter horses to a Democrat and taught me first to drive a Shetland pony to a sulky cart at a young age I can't even put a number to. Several times I was given a bucket of linseed oil and instructed to oil the wheels on the Democrat. Little did I know what was in store for me!
My wife, Diane, and I were married in June of 1976 and we headed off to Fort Riley, Kansas so Diane could pay back Uncle Sam with three years for putting her through Army nurses training at Walter Reed Army Institute of Nursing in Washington. D.C. I fed cows at a research farm while I was there, but come September of 1979 it was either stay in and go to Germany or get out and go back to Montana. We came back to Montana.
Rick Bischoff, my brother-in-law through marrying sisters, was beginning to dabble in the carriage trade and offered to put up with me if I'd help him out in the shop. Since I had always enjoyed working with wood and still had a gelding we had raised from a colt, it sounded like a perfect combination to me.
Our first contract was to restore an 8 passenger Yellowstone Coach and simultaneously replicate another along side. Word got out and shortly TW Services, concessionaires in Yellowstone Park, got wind of what we were doing and contracted us to build two tally-ho coaches for tourist purposes at Roosevelt Lodge. One could say, "And the rest is history."
Coming from a stubborn German Mennonite background, and being young and headstrong as I was (am), Rick and I split up in 1982. Rick, and his wife Pat, bought a carriage lamp business in Wisconsin and brought it out here to Joliet where they still operate it as The Luminary Shoppe and I stayed in the carriage shop.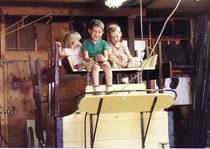 Diane and I have three young wheelwright / restorers. Maybe they're not so young any more, but they have been accustomed to the life in a wheelwright's shop. Brett, our oldest, (in the middle) at 34, looks a bit different now. Nate, on the right, is a real helper and does much more now at 32. Janelle, now 30, still looks up to her brothers, just like she's doing here.
Brett thought he would try his hand at the wheelwright trade at an early age.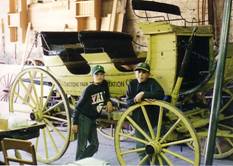 Brett and Nate have always been a great help in the shop and are busy here taking apart a Yellowstone coach from the Old West Museum in Cheyenne. (1994-ish)
Brett is now employed as a mechanical engineer by Caterpillar, in Minneapolis, MN and married Annamarie in July, 2009; Nate is a roofing contractor in Bozeman, MT. and married Brittany in September, 2008, and Janelle is working in Austin, TX. She has taken welding and forging at a community college there. She loves the forging, so who knows maybe she'll come back and help in the shop. Wishful thinking, I suppose.
I've always been one for figuring things out, and willing to listen, and this has been a great help through the years. We are witnessing the passing of a generation who lived what we play with and it has been many an Old Timer who has relayed stories of "I remember when…" that has brought me many a tip or procedure. Thanks! I'll try to pass it on through my work.
When I'm not in the shop, I have enjoyed hunting, horse packing and putting up hay with my teams.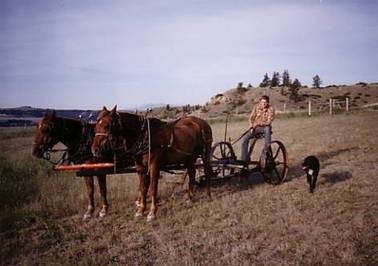 This is mid 80's and a quarter-horse team I began haying with. They couldn't take the work day after day so I eventually went to a Percheron-quarter horse cross and they worked real well!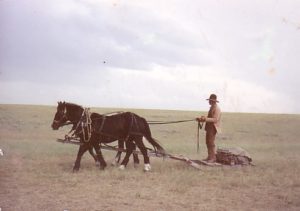 This is that cross-bred team as I was driving on the movie set of Far And Away, which some of you may have seen, featuring Tom Cruise in 1993. They were a dapple grey and a black, also known as the "Boston Hitch".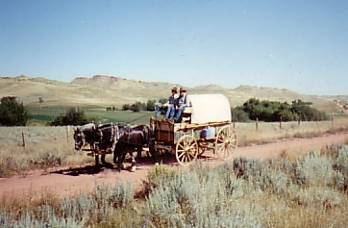 This was in the Ucross to Sheridan wagon train of Wyoming's Centennial 1890 – 1990 with my good friend Hughe Cummins. Hughe provided the chuck wagon and I brought the team.