Greetings from Joliet, Montana!
We are a small town, family owned business very similar to the multitude of carriage shops that used to dot our country years ago. Joliet is nestled in the foothills of the Beartooth Mountains and only 90 miles from Yellowstone National Park where our coaches are used at Roosevelt Lodge. We are only 30 minutes southwest from Billings, Montana's largest city, and only 15 minutes off Interstate 90. And since Joliet's 'business district' is only 2 blocks long, we're real easy to find.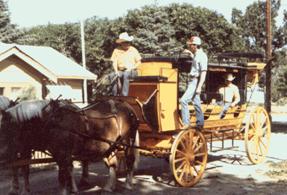 Over the years, I've had the opportunity to build, repair, and restore a number of Yellowstone style coaches and have grown to appreciate the craftsmanship of the Abbot, Downing Company. Since Yellowstone Park is in our 'back yard', that style touring coach is extra special to us. I'll try to include some sequential pictures of restoration projects of Yellowstone coaches, buggies, Broughams, Breaks, Band wagons, and what ever else I can squeeze in. (Please understand I am a wheelwright, not a web-master) The coach pictured here is one of 3 seventeen passenger coaches we built for Yellowstone Park during 1980 and 1982. (The gentleman standing on the wheel is Rick Bischoff, whom many of you know, and now operates The Luminary Shoppe here in Joliet.)
This is our 38th year in the horse drawn vehicle and wheelwright trade. Where has the time gone! Thirty-six years ago this internet thing wasn't anything to even ponder. Now even po-dunk shops like us are getting on board. Even though we might try this web page stuff, this is still a ma and pa operation in a one-horse town, so don't be fooled. We still like to know what your latest 'project' is, how big your horses or mules are, what you do for real work, and where your kids live.